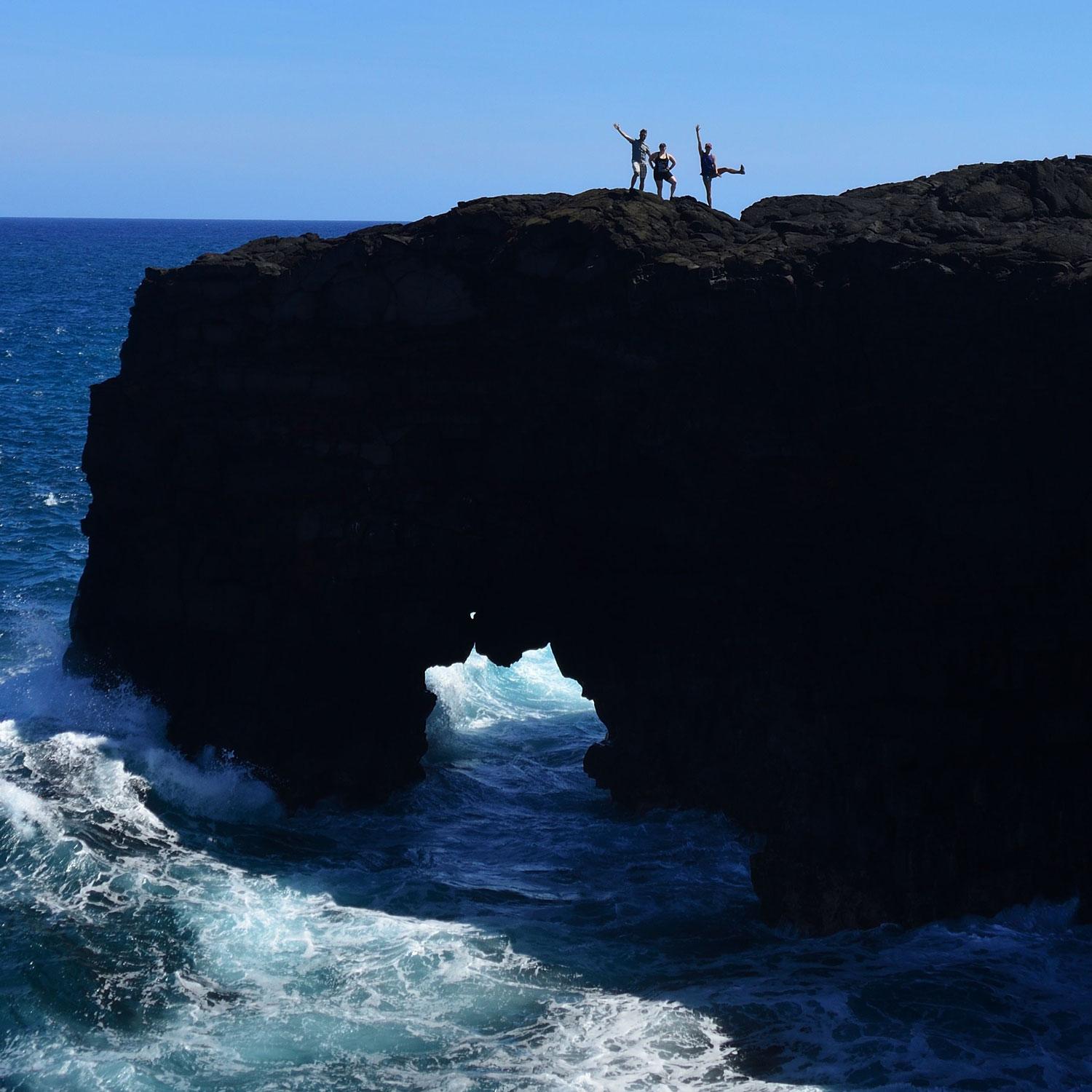 Tours
---
Small Group and Private Tours of
Volcanoes National Park, Big Island Hawaii
Volcanoes National Park Adventure from Kona and Waikoloa
View availability by selecting your pickup location below:
Follow the route of
Our Adventure
Visit Heavenly Hawaiian Coffee Farm

Savor the rich, bold flavors of a perfectly brewed cup of coffee as you soak in the stunning views of the lush, verdant farm as our day begins with an exhilarating visit to an award-winning coffee farm.

Turtle Watch at Punaluʻu Beach

Turtle watch at Punaluʻu Beach, Hawaii's stunning black sand beach.

Lunch at Lava Rock Cafe*

Enjoy a delectable lunch at Lava Rock Cafe, a sit-down restaurant where you choose from a menu of delicious options. *Some days may include alternative dining options depending on availability.

Experience Volcanoes National Park

Explore the captivating geological history of the Volcanoes National Park and witness firsthand the mesmerizing molten lava flows and steam vents with geological insights.

See, Learn About Kilauea Caldera

Experience the raw power of nature as you venture through the captivating landscapes, witnessing the untamed beauty of this volcanic wonder. We'll be taking you off the beaten path to breathtaking vistas, craters, and lava flow walks, ancient petroglyphs, sea arches, a lava tube and see diverse vegetation, making your experience truly unforgettable.

Drive Saddle Road

Revel in the picturesque beauty of Hawaii's largest island as you travel through the heart of the island over the famous Saddle Road. The stunning raised slopes (the saddle) between Mauna Loa and Mauna Kea will leave you in awe of the island's natural wonders.
Explore Kilauea Caldera within
Volcanoes National Park
Experience the adventure of a lifetime on our comprehensive private tour of Volcanoes National Park. Sit back, relax, and soak in the stunning scenery as our knowledgeable expert guides do the driving on this all-day luxury tour with hotel pick-up and drop-off included.
This small group tour ensures personalized attention, making it a once-in-a-lifetime experience.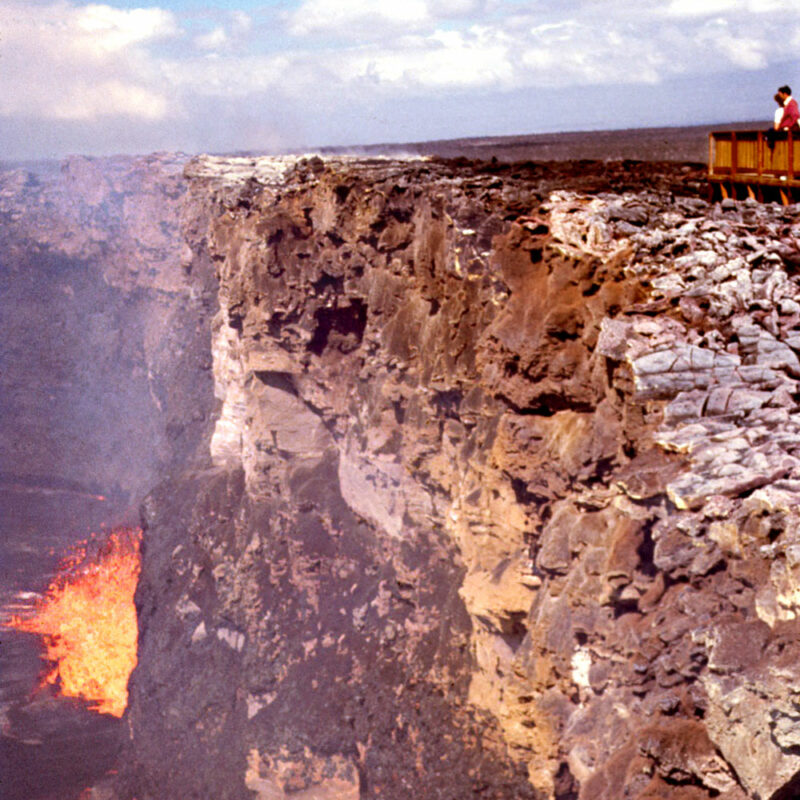 Take A Personalized VIP Adventure
Immerse yourself in the power of one of the most active volcanoes on the planet with Hawaii Geo Tours. This Adventure is a 100% tailored tour to whatever you want. We can accommodate groups from 1 to 14 guests! We call you ahead of time, discuss their standard tour day, and can make special stops. Or we can do something completely different!
Reserve Your Spot
Doug R

Hawaii Geo Tours are the best!

Wow! Fantastic tour of the erupting volcano!!! The guides are geologists and explained so much about the volcano and how all the Hawaiian islands were created. The pictures I got during the day, and especially at night were incredible! The food and winery tasting were good too. I've done this tour twice in the past year and recommend it highly! I wish I could give more than 5 stars!!! 🤙

Jim C

One of the best tours ever

What an excellent way to get to know the Big Island and learn about its unique place on Earth. Our tour guide Eric picked us up on time at our rented villa along with a number of other visitors and we proceeded to spend one of the better days on a tour of the island. Eric is one of the proprietors of the tour, is a degreed geologist and is truly an engaging and friendly person. The tour was excellent which combined both interesting sights and a tremendous amount of local knowledge about lava flows and local history. To say that this was worth the day spent would be to put it mildly. Even at twice the price, I would happily do this again and recommend the tour to anyone.

Suzanne H

Well worth the time and money

David was an outstanding host and tour guide. He was very knowledgeable and entertaining. I highly recommend this tour. You will see a ton, learn a lot about the island and enjoy a delicious lunch.

Laura V

Highly Recommend!!

Zane was incredibly knowledgeable about the island! If you want to go on a tour with a geologist, this is the one to take!! As a privately owned company, he was able to hit all of the major island highlights as well as take us to places on the island that other tour companies don't visit. We learned so much about the history of the island and the volcanos on the island all while having a fantastic time! HIGHLY recommend!!

Chris F

Very Best Geo Tour on the Big Island of Hawaii

Zane found his calling. He is incredibly well educated in geology, has traveled the world and knowledgeable about not only the local history, but the flora and fauna of the island too. And he is super personable and able to keep all 10 of interested for almost twelve hours of the day. We conversed about what we wanted to see on a big scale and he narrowed it to specifics based on weather, crowds and our groups patience. He was a saint. If you want to enjoy the very best island tour and get educated on the land and history, hire Zane and you will write the next five star review!

Katie K

Geo adventure family trip for the win!

David has a vast knowledge of so much of the island it's amazing and he charmed us with a ton a factoids the whole day. Highly recommend if you are short on time on the island but want to see as much as you can in little time.

Amazing tour! Our guide Dave was absolutely fantastic, very knowledgeable and funny, kept everyone entertained over the trip.

Avelcio N

Awesome adventure!

We couldn't have made a better choice!!! Definitely the guides know their stuff, from history of the island and its people to the geological topics that kept me entertained throughout the trip. We just about went around the island in vip style, the guys were well known everywhere they took us as well as knew their way. Will recommend it to a few friends that are planning to visit the island, it's a must in your itinerary and couldn't have made a better choice in tour guide services

Bolt

Bolt says Geo Tour Big Island

Dave was a great guide. Very informative tour. I really enjoyed the geological aspect and lots of information on how the islands were formed and keep growing. Many interesting stops along the way including a walk through a lava tube. Very cool! Great experience!

A must tour experience! Such an incredible day. What is unique about This tour, is how much you learn about the island formation and the flexibility in where he takes you! We traveled with friends and booked the VIP tour…if you can swing it, definitely put Geotours on your itinerary! Erik will not disappoint. You can see that he is passionate about the island and what he does. Mingled well with our group, lots of laughs, great energy and had a BLAST!!!